Arc-shaped Welding Transmission Roller & Bend Conveyor Roller

Ceramic roller's diameter: 1250mm
Wall Thickness: 25mm
Roller Diameter: 160mm
Steel Roller's length:1600mm
Steel Roller's material: carbon steel
Surface treatment: rubber coating
Application: widely used in metallurgy industry,coking industry,salt filed,mining industry,coal industry,conveying system and so on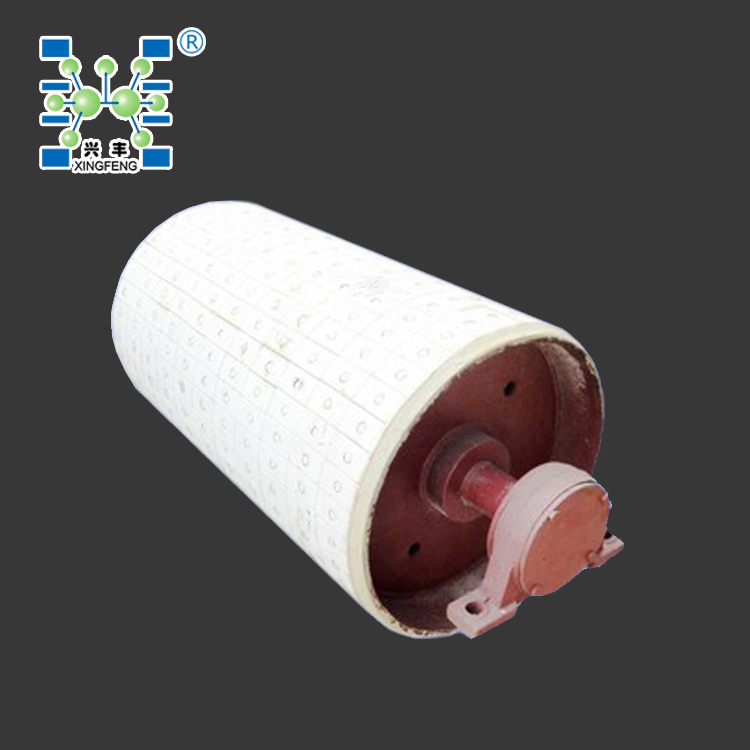 Types: All kinds of conveyor roller for TD75 or DT II
Manufacturing Technique:
The roller body made of steel structure, tolerance for circular degree and concentricity controlled in a permit scale.
Arc-shaped welding wear-resistance ceramic and roller body linked of Korea glue, added our company's patent, formed a complete and high strength structure.
Solved the problems for traditional products and lower much cost for enterprise production.
Dimensions: 1250*1600mm
Type: Power Roller
Ceramic roller's diameter: 1250mm
Wall Thickness: 25mm
Roller Diameter: 160mm
Steel Roller's length:1600mm
Steel Roller's material: carbon steel
Surface treatment: rubber coating
Application: widely used in metallurgy industry,coking industry,salt filed,mining industry,coal industry,conveying system and so on
Characteristic:
High abrasion resistance & Great load capacity
Long life span,within 5years no need new roller
Low resistance,circular degree and concentricity controlled well
Maintenance-free,solved the problems for Cast rubber conveyor roller shift frequently and not wear well
Physical Data
| | | | | | | | | | | |
| --- | --- | --- | --- | --- | --- | --- | --- | --- | --- | --- |
| Item | Density | Crush strength | Bending strength | Thermal conductivity | Thermal stability | Moh's hardness | Acid resistance | Alkaline resistance | Length tolerance | Wear ratio |
| Unit | kg/cm3 | Mpa | Mpa | Km/m.°C | 350°-20° | Scale | % | % | % | % |
| Value | 3.3 | ≧200 | ≧150 | 0.95-1.25 | Secondary division | ≧8 | 98.8 | 85 | <0.5 | <0.5 |
Chemical Composition
| | | | | | | | |
| --- | --- | --- | --- | --- | --- | --- | --- |
| Al2O3 | SiO2 | K2O | Na2O | CaO | MgO | Fe2O3 | LOI |
| 92% | 5% | 0.56% | 0.25% | 0.12% | 0.22% | 0.3% | 0.54% |
Cast rubber conveyor roller and Arc-Shaped Welding Transmission Roller Comparision
Product

Dimensions

Surface Area

Life span

Cast rubber conveyor roller

DT II

05B4142

2.33

12 months

Ceramic Conveyor roller

DT II

05B4142

2.33

60 months

Whole life time warranty for roller's surface